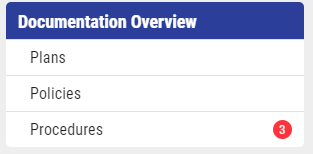 The Documentation Overview appears in the Technology Subway Stop.
The FutureFeed Documentation Overview provides the singular documentation resource for all of the Plans, Policies and Procedures deployed by the organization.
The page is divided into three sections - Plans, Policies and Procedures. Combined they provide a path to build and a roadmap for implementation of the organization's cybersecurity posture.